Description
Custom Made Best Polypropylene RV Patio Mats Plastic Straw Outdoor Rugs Rv Carpet With Logo For Outdoors, RV, Patio, Backyard, Deck, Picnic, Beach, Trailer, Camping
REVERSIBLE MATS: With timeless design, this plastic patio rug is elegant as it is functional, use it on your patio with outdoor furniture and accessories to show off your personal style.

PREMIUM QUALITY: This outdoor rug for the beach, camper, or front porch is derived from 100% virgin polypropylene, along with edging that is heat-treated to avoid fraying, soft and durable, low-maintenance. The Breathable material will not hurt the grass or scratch your deck.

EASY CLEANING & PORTABLE: For a quick clean simply sweep away dirt with water and airing it dry. Reversible outdoor rugs can be folded into compact sizes for easy storage, it comes with a carrying bag for added convenience. Suitable for an afternoon outing or an RV road trip.

UV STABILIZATION: UV coated to protect against fading and other sun damage. Note: Colors show different in pictures due to lighting. SIZES: 5′ x 8′, 8′ x 12′, 9′ x 12′, 9′ x 18′, four size are perfect for any indoor/outdoor decoration.

VERSATILE AND FUNCTIONAL: These versatile and functional rugs are great options to elevate any entertainment space including patio, deck garden, beach, picnic, rv camping, garage, kids rooms. Comes with corner loops and 4 stakes for easy security to the ground.
For more information please feel free to email: sales@logomat-lettosigns.com
OUTDOOR RUGS FOR PATIO, PORCH, or DECK Use them to brighten up the outdoor space and bring life into it. The rugs are lightweight, keep them in the back of a car RV and use them for camping or beach trips, or jaunts to the beach lake, or your next barbecue picnic.

ECO-FRIENDLY PLASTIC RUGS made from recycled plastic straws. These are strong but soft and comfortable to walk on barefoot. Actual colors may vary from displayed images due to production limitations.

EASY TO CLEAN, EASY TO STORE, EASY TO CARRY No worries about spills or sand/dirt outside. Simply wipe clean or hose off. These rugs dry in a jiffy.

DURABLE our rugs are sturdy to withstand outside weather all year round with no required care and are made to last long.

GLOBAL BRAND WITH HIGH ETHICAL VALUE We believe in using recycled and sustainable materials to produce all our products. The factory conditions are regularly checked for working environments and child labor. We have years of experience in making outdoor rugs of the most refined quality.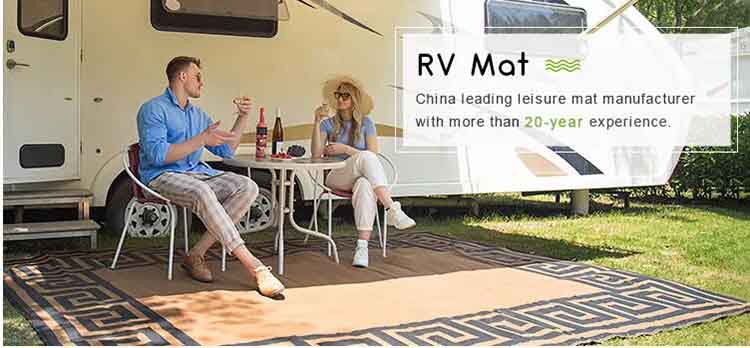 Specifications:
Pattern, Color, Size:  Can be customized as clients' demand
Stand Size: 5x8ft, 6x9ft, 9x12ft, 8x12ft, 8x16ft, 8x20ft
Material: Polypropylene
Advantage: Reversible design, Easy to clean, UV stabilized, Eco-friendly, Portable and durable
Packaging: Rolled packaging or Folded packaging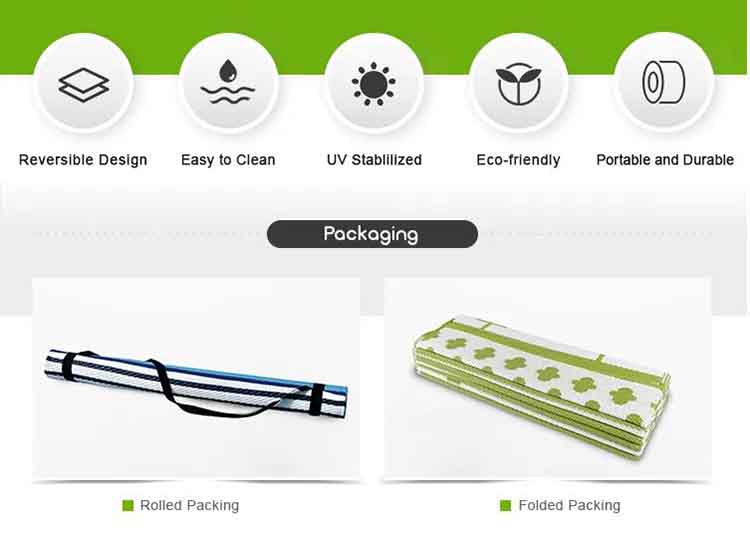 Customer Reviews: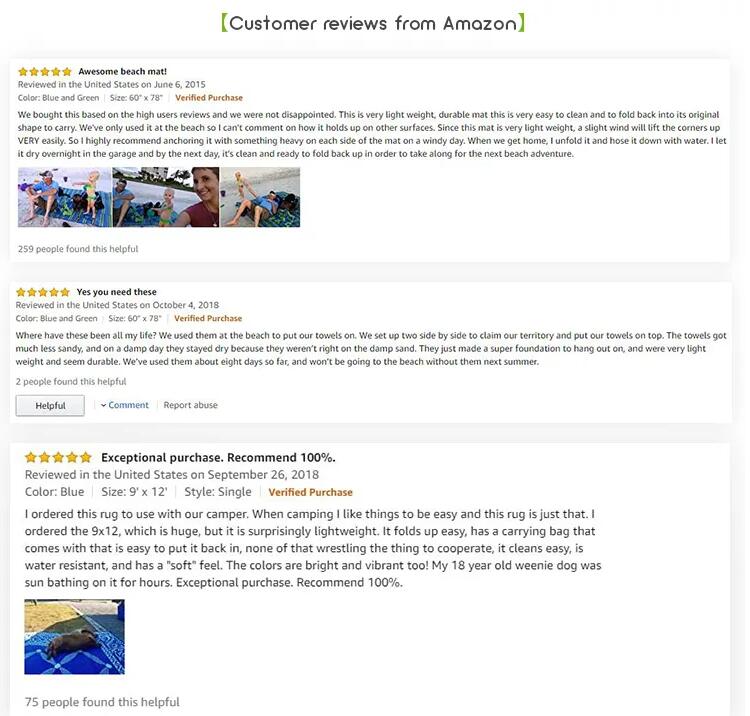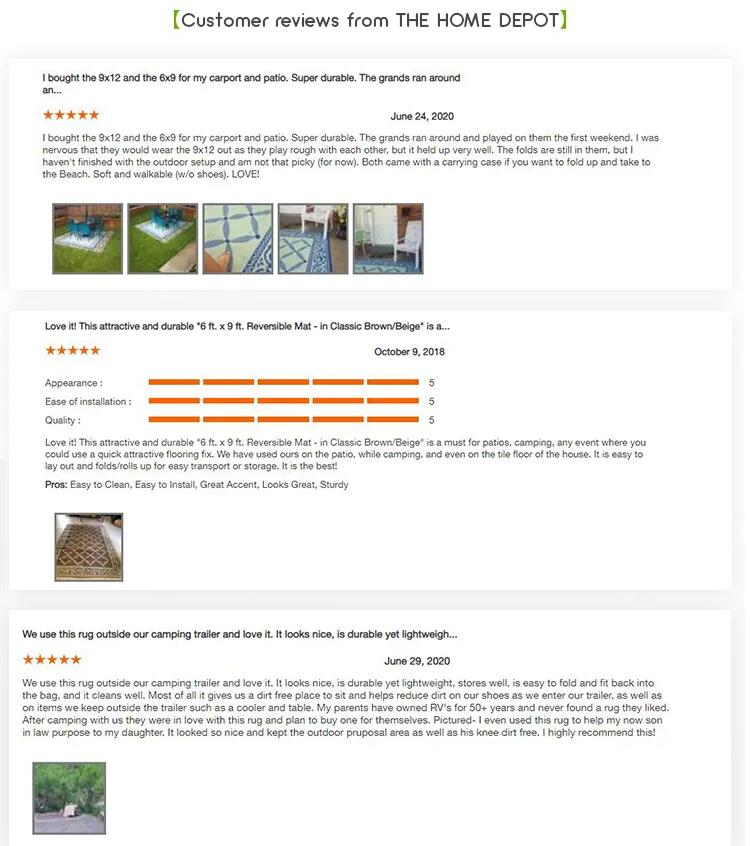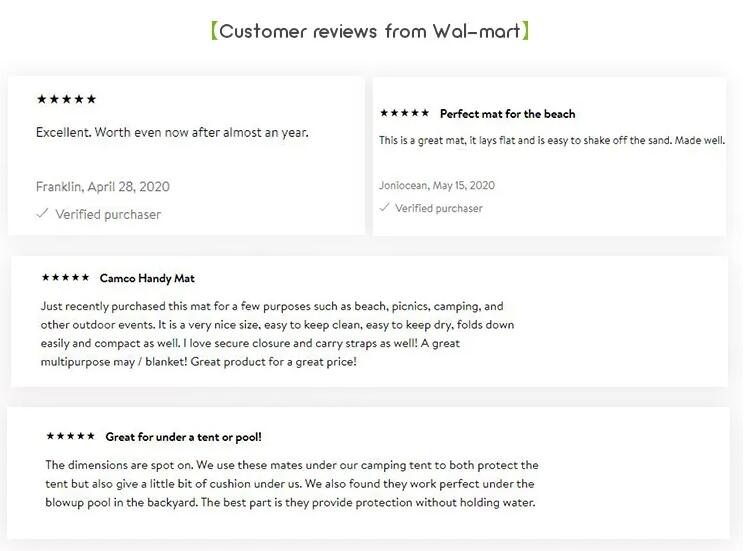 Cooperative Partner: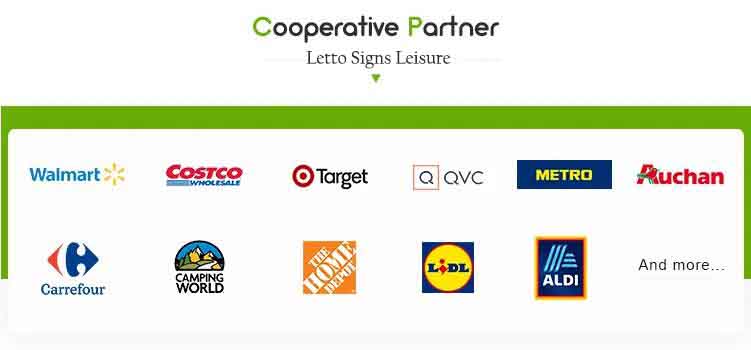 Letto Signs Leisure is a stable supplier for Wal-Mart, Costco, Target, QVC, Metro, Auchan, Carrefour, and other large purchasing companies all around the world during the decades.
Company Profile: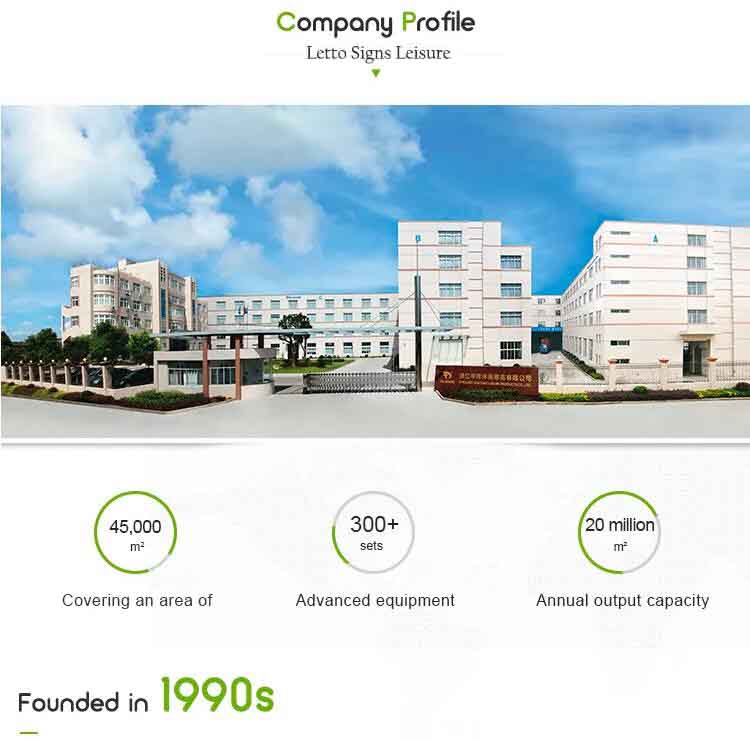 Letto Signs Leisure Products Co., Ltd. was established in the early 1990s. Our company specializes in manufacturing, researching, and developing all kinds of mats, we are one of the leading factories in the field of mat manufacturing in China. The workshop and warehouse cover an area of 45,000 square meters with more than 300 sets of advanced equipment fixed inside, which guarantees an annual output capacity of 20 million square meters.
The products vary from rv mats, patio mats, camping mats, picnic mats, beach mats, outdoor mats, advertising mats, and other kinds of mats. The pattern, color, and size of mats can all be customized. Our high-quality mats are manufactured in their entirety in our facility, we believe that by controlling all aspects of our mat production we can offer more color choices, more size choices, and faster order fulfillment. LettoSigns's pp mats occupy a major share of the global market.
Production Flow: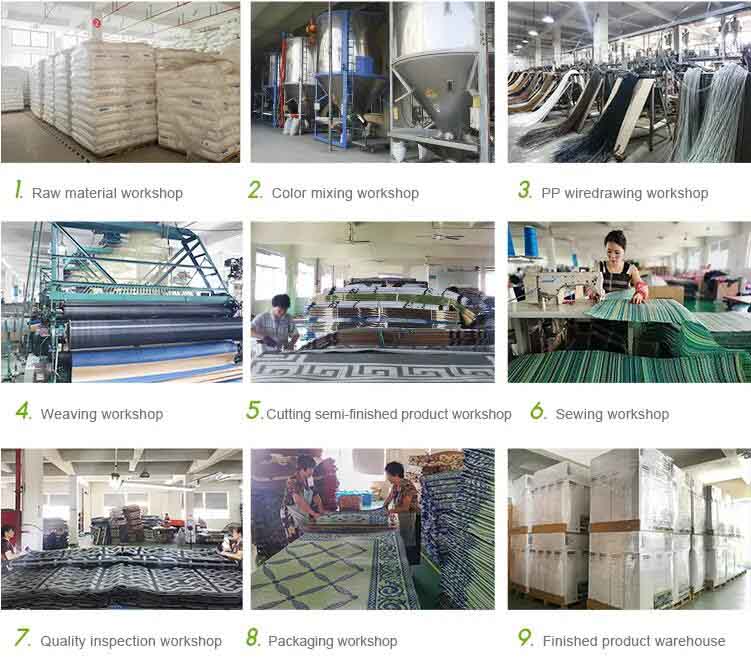 Sample Room: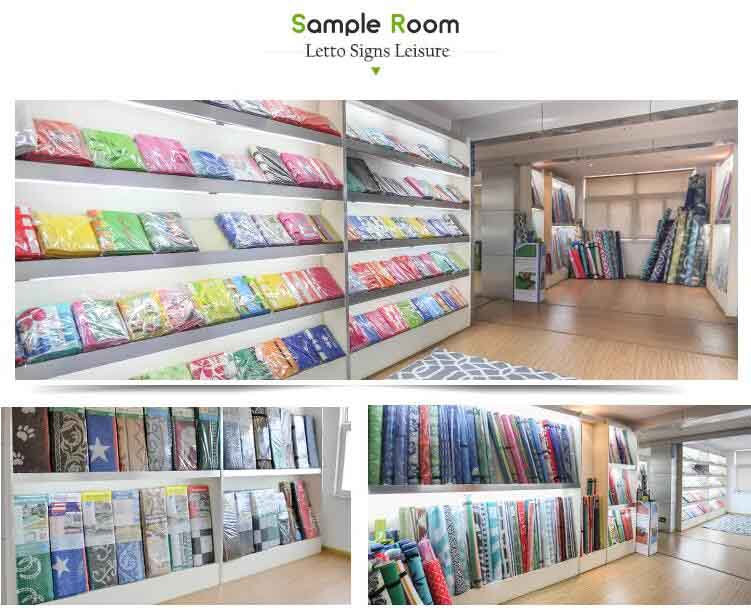 Certificate Display: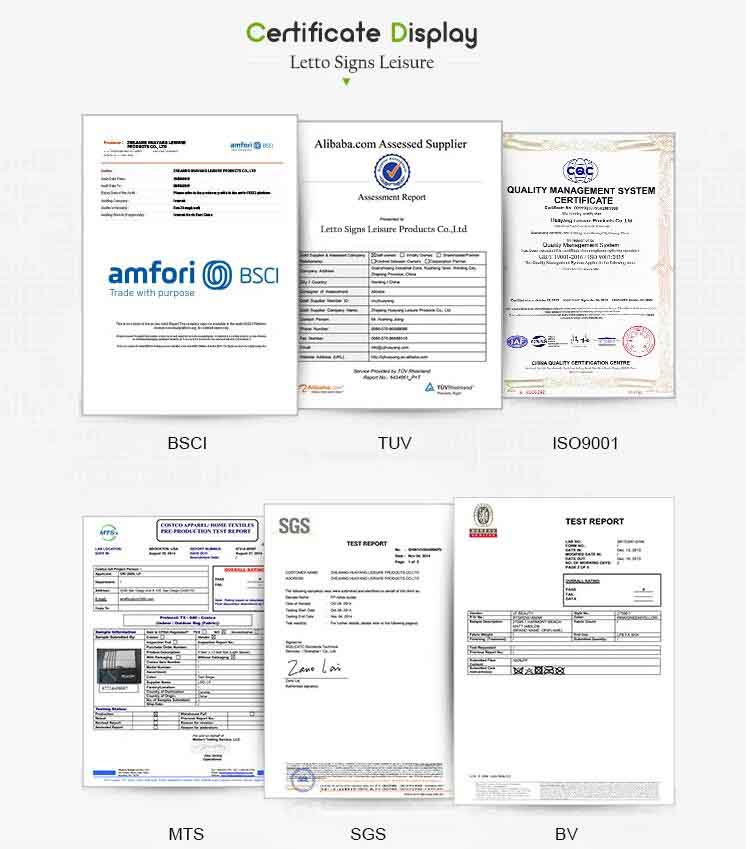 Product Categories: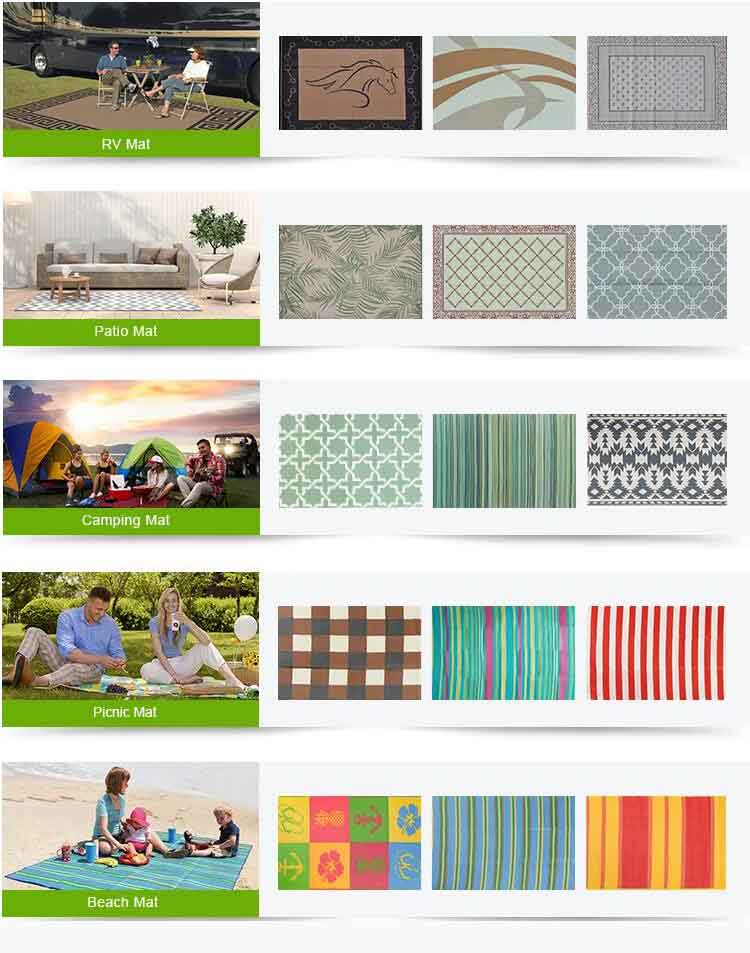 For more information please feel free to email: sales@logomat-lettosigns.com
Keywords /Tags: Camper Mat, Patio Rugs Outdoor, Rv Mat, Rv Rug, Patio Mat, Camping Rug, Rv Outdoor Rugs, Outdoor Camping Rugs, Rv Outdoor Mats, Patio Door Mat, Rv Patio Mats, Outdoor Patio Carpet, Outdoor Camping Mat, Outdoor Mats For Patio, Deck Rugs, Camper Carpet, Camper Door Mats, Camper Ground Mat, Indoor Outdoor Rugs Runner, Outdoor Area Mat, Rv Patio Mat 9X20, Rv Patio Mats 9X12, 9X12 Outdoor Camping Rug, Rv Awning Mat, Double Doormat For Patio Doors, Outdoor Patio Rugs Lowes, Rv Camping Mat, Camping Rug Mat, 5X5 Outdoor Rug, Rv Door Mat, Rv Matt, Green Carpet For Balcony, Reversible Mats Outdoor Patio, Personalized Rv Door Mats, Sand Mine Reversible Mats, Motorhome Outdoor Mats
[contact-form-7 id="9″ title="Request Here"]