Description
Lightweight UV-protected Recycled Polypropylene Plastic Straw Area Rug Reversible Camping Mat Deck Patio Rug Custom Logo Round Outdoor Rugs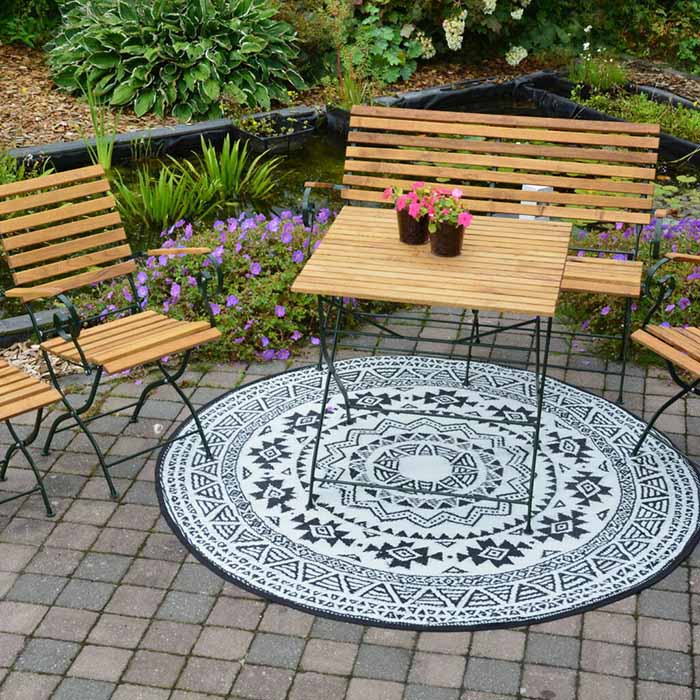 Our round waterproof Rug is ideal for use outside as well as inside.
With an indoor and outdoor rug from the All Things Brighton Beautiful collection, you can create a homely atmosphere beneath the open sky, but also add a touch of cosiness to highly-frequented interiors such as kitchens and hallways.
A decisive advantage: these rugs are true all-rounders and can be used universally.
While terraces, gardens, and balconies were previously rug-free zones, our rugs are now welcome accessories.
Rain and water don't bother them and they are particularly easy to clean, which is easiest with a garden hose and (if necessary) a gentle cleanser.
Easy-care synthetic fibers make the rugs very durable, robust, and long-lasting. That's why they are so popular with pet owners.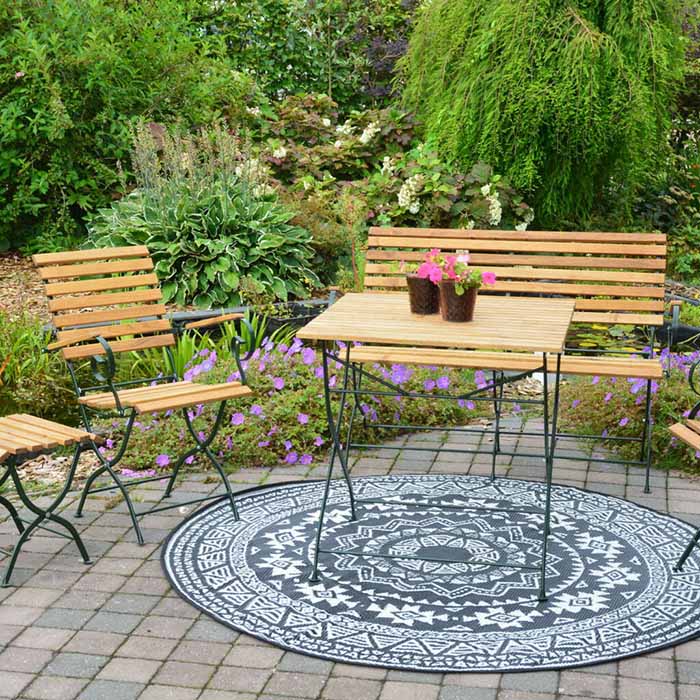 Soft & Durable: Made with high-quality virgin polypropylene and recycled materials to protect the environment.

Long-Lasting Colors: Coated with UV protection against sun exposure so that colors do not fade.

Woven Structure: Designed with a woven structure that makes it breathable that's safe to use on grass. Stake down the mat short-term with the built-in loopholes.

Quick & Easy Cleaning: Cleaning a mat hasn't been easier, its woven structure allows you to easily sweep debris, and spray down with water, and is quick drying!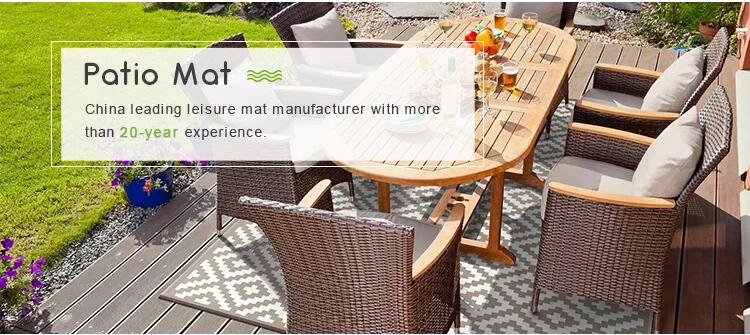 Specification: 
Soft and durable virgin polypropylene material

UV coated to protect against fading and other sun damage

Breathable material won't damage grass

Easy to clean and dries quickly -sweep away dirt or spray clean with water

Lightweight and compact – folds for easy storage into included carrying bag

Custom size: 4'x4′, 5'x5′, 6'x6′, 7'x7′, 8'x8′ etc
Custom logo and design available
Pattern, Color, Size:  Can be customized as clients' demand
Stand Size: 5x8ft, 6x9ft, 9x12ft, 8x12ft, 8x16ft, 8x20ft
Material: Polypropylene
Advantage: Reversible design, Easy to clean, UV stabilized, Eco-friendly, Portable and durable
Packaging: Rolled packaging or Folded packaging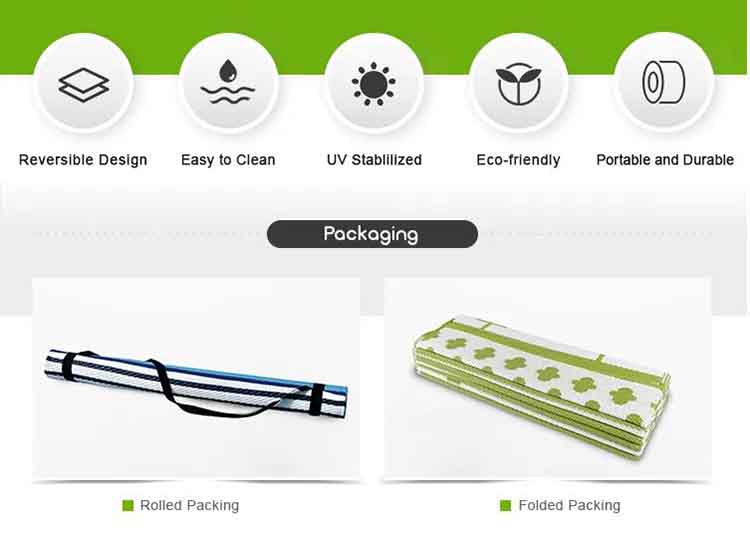 Customer Reviews: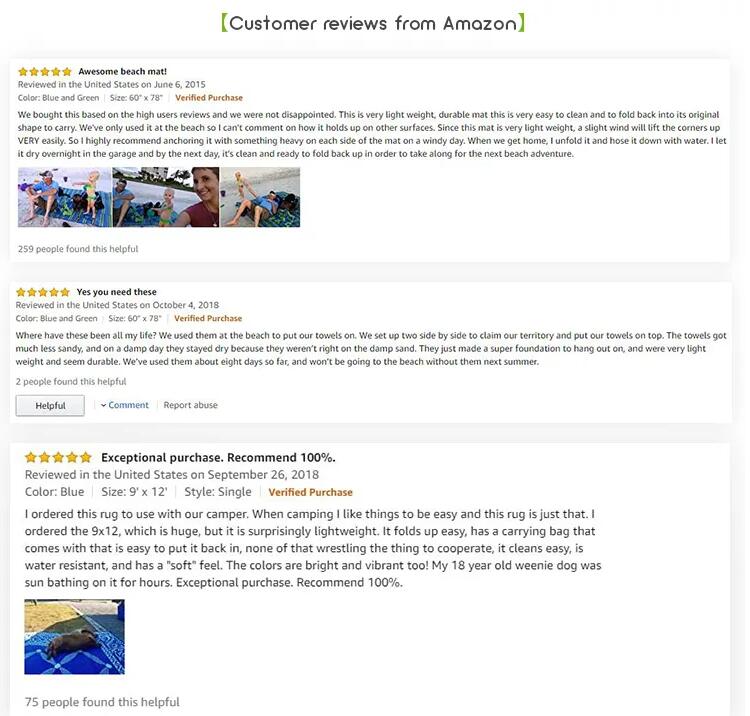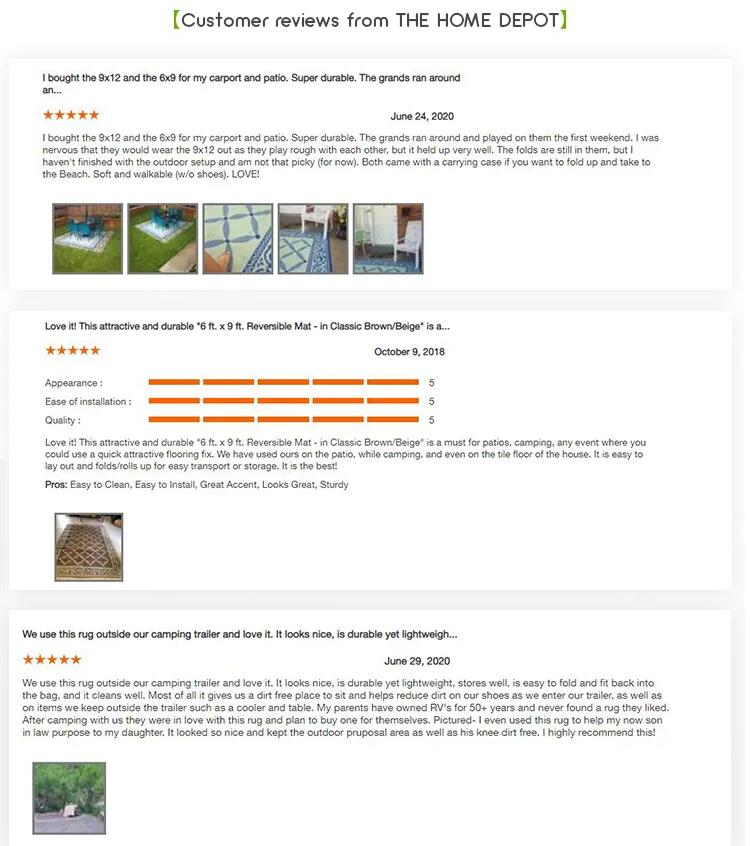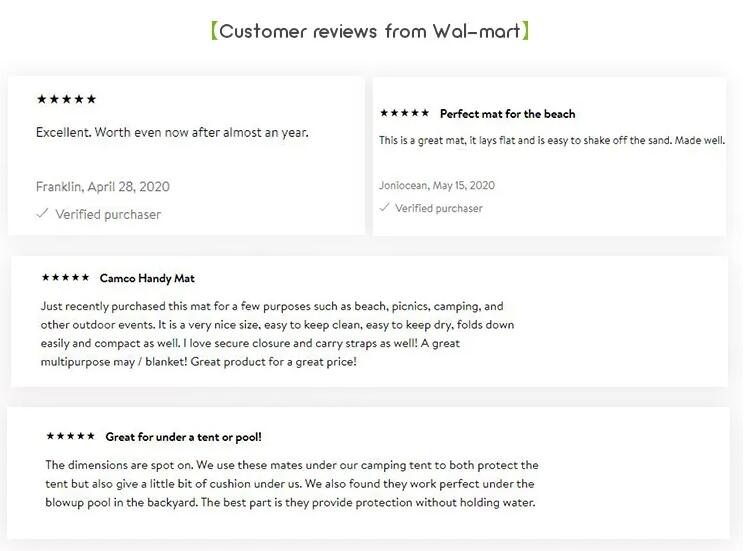 Cooperative Partner: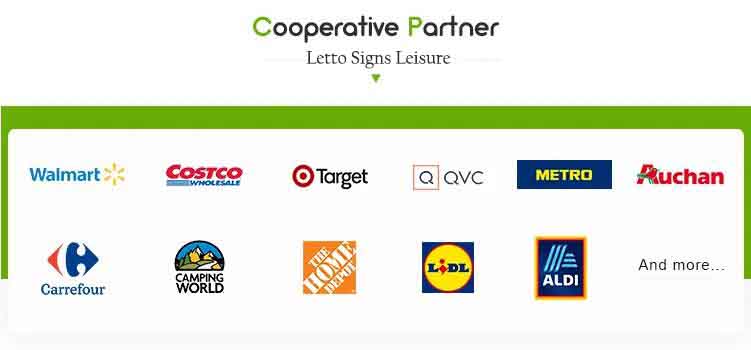 Letto Signs Leisure is a stable supplier for Wal-Mart, Costco, Target, QVC, Metro, Auchan, Carrefour, and other large purchasing companies all around the world during the decades.
Company Profile: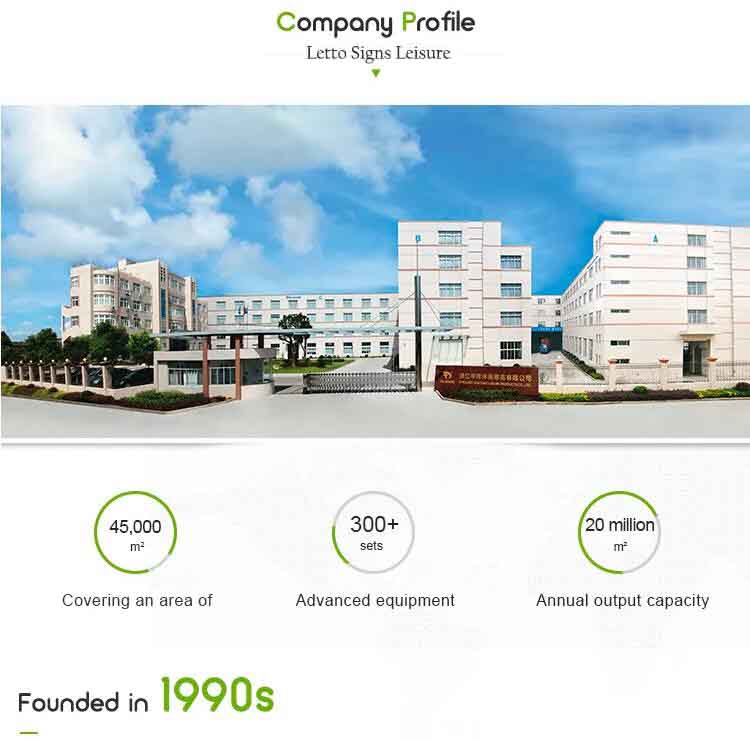 Letto Signs Leisure Products Co., Ltd. was established in the early 1990s. Our company specializes in manufacturing, researching, and developing all kinds of mats, we are one of the leading factories in the field of mat manufacturing in China. The workshop and warehouse cover an area of 45,000 square meters with more than 300 sets of advanced equipment fixed inside, which guarantees an annual output capacity of 20 million square meters.
The products vary from rv mats, patio mats, camping mats, picnic mats, beach mats, outdoor mats, advertising mats, and other kinds of mats. The pattern, color, and size of mats can all be customized. Our high-quality mats are manufactured in their entirety in our facility, we believe that by controlling all aspects of our mat production we can offer more color choices, more size choices, and faster order fulfillment. LettoSigns's pp mats occupy a major share of the global market.
Production Flow: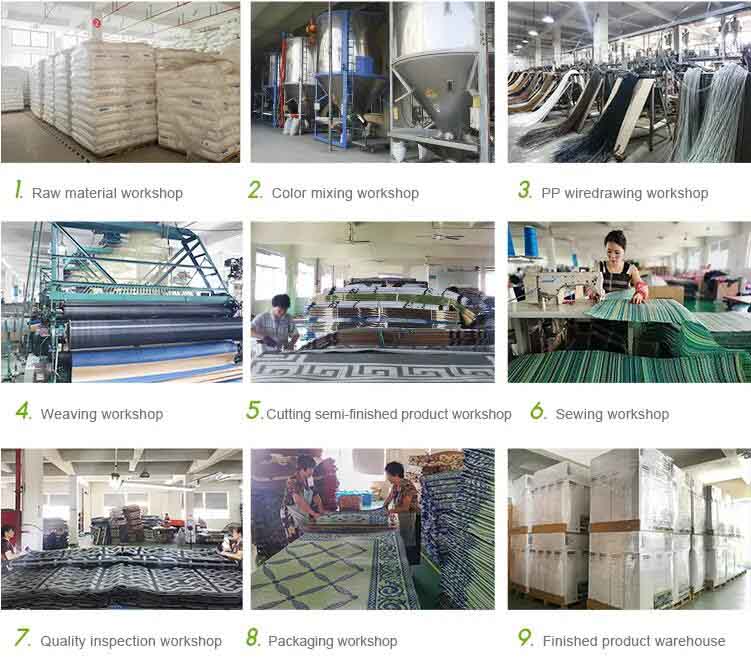 Sample Room: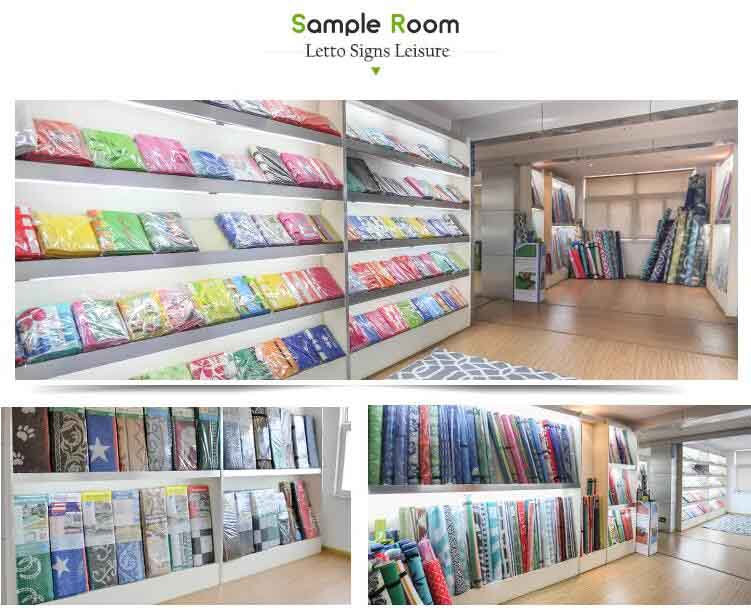 Certificate Display: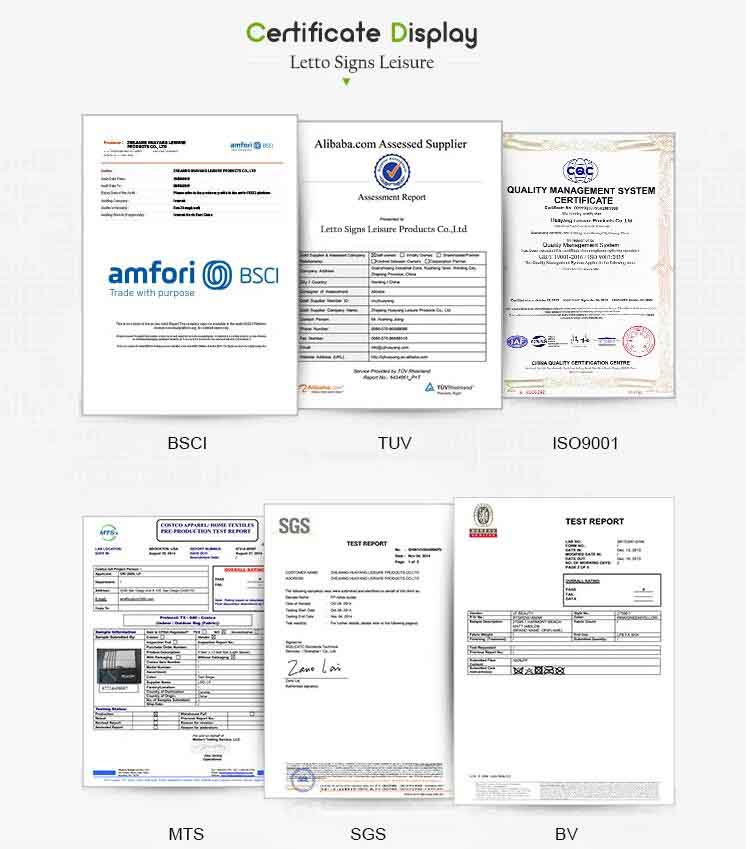 Product Categories: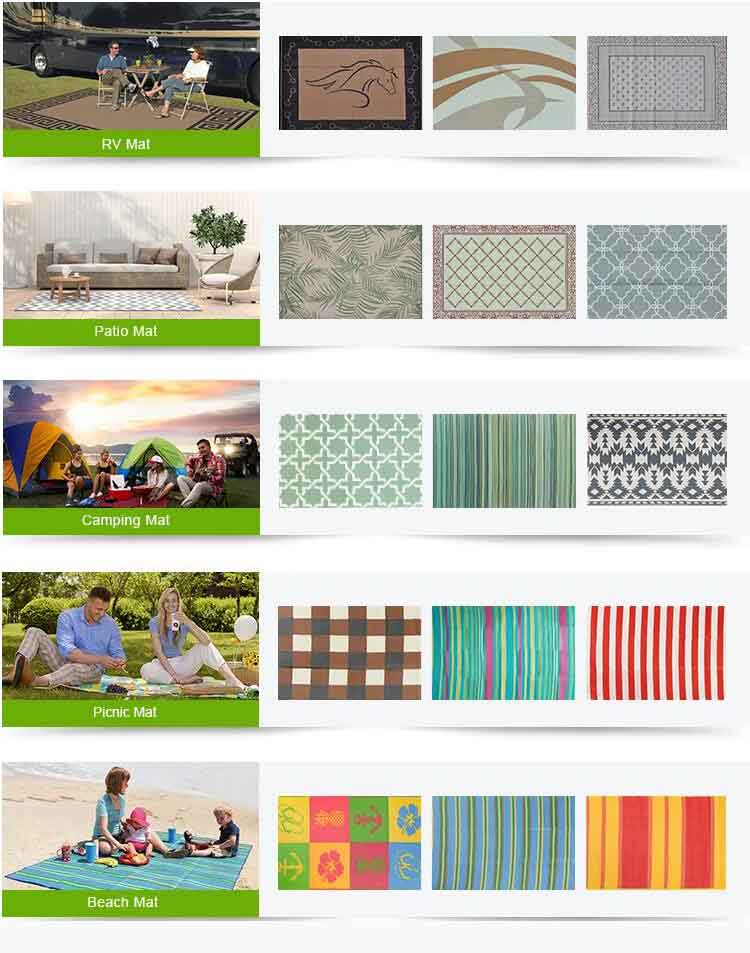 For more information please feel free to email: sales@logomat-lettosigns.com
Keywords /Tags: Camper Mat, Patio Rugs Outdoor, Rv Mat, Rv Rug, Patio Mat, Camping Rug, Rv Outdoor Rugs, Outdoor Camping Rugs, Rv Outdoor Mats, Patio Door Mat, Rv Patio Mats, Outdoor Patio Carpet, Outdoor Camping Mat, Outdoor Mats For Patio, Deck Rugs, Camper Carpet, Camper Door Mats, Camper Ground Mat, Indoor Outdoor Rugs Runner, Outdoor Area Mat, Rv Patio Mat 9X20, Rv Patio Mats 9X12, 9X12 Outdoor Camping Rug, Rv Awning Mat, Double Doormat For Patio Doors, Outdoor Patio Rugs Lowes, Rv Camping Mat, Camping Rug Mat, 5X5 Outdoor Rug, Rv Door Mat, Rv Matt, Outdoor Rug, Out Door Rugs, Patio Rug, Plastic straw woven mat, beach mat, Picnic mat, 
[contact-form-7 id="9″ title="Request Here"]