1. What are the bar mats? And why do we need them?
A Bar mat is the rubber mat that sits on the bartender side of the bar, and it usually has deep grooves or a multitude of uniform rubber fingers. These are for the bartender to place glassware on and to pour drinks into these glasses, and they may catch the spillage and contains it so it doesn't get everywhere. Usually, it can be divided into two kinds of bar mat: bar rail mat and bar service mat.
A bar rail mat is a long rubber mat that lies on the edge of the bar. Bartenders place in-progress cocktails on them as they pour, mix, and garnish drinks. The mats catch small spills and clean easily as you run them through the dishwasher.

Service mats do the same, but they are thin, rubberized mats placed on the service bar counter, where bartenders place completed drinks ordered by waitstaff.  These cushions are bigger than a rail mat because they are designed for large drink orders and wine service.
Service mats add great utility to bar tops by protecting them from splatters and spills during high traffic service. The durable rubber matting on the bottom and framing the sides will hold the mat securely in place. Now you can enjoy the ability to customize your own Bar Service Mat with your name and branding.
Custom Bar mats allow you to design your own personalized printed bar mat with your own pics and text — all customizable and editable. Whether it be for a Footy club, cricket club, tennis club, bowls club, 21st,  Birthday, Engagement party or bucks or hens party. Custom Bar mats allow you to order just 1 or as many as you need. Also ideal for pubs, clubs or for the man cave or bar at home. Bar mats are of the highest industry standard and can be washed for future use without fraying or curling.
A customized personalized Bar mat is an everlasting gift and will be treasured for years to come.
2. How many kinds of bar mats?
Usually, there are Rubber Bar Mat, PVC Bar Mat, Silicone Bar Mat. 
Rubber Bar Mat:
The rubber bar mat is made of natural rubber and it's based on a polymer. The rubber is deformed by zigzag extrusion and recovers quickly, meaning it has good chemical stability and mechanical properties.
Rubber bar mats have excellent resistance to high and low temperatures and maintain good elasticity in the temperature range of -20 – 120 degrees.
Rubber bar mats are also flame retardant, electrically isolated, wear-resistant, and ozone resistant, to mention a few benefits.
Silicone Bar Mat:
The silicone bar mat has a strong safety performance. Its main component is silicon dioxide, and its properties are reliably stable. These mats have a strong absorption capacity and are non-toxic and harmless. With time, their absorption capacity decreases, but they can be regenerated, guaranteeing a long life. They're also beautiful to the touch.
High reliability, high compressibility, softness, and elasticity.
Natural stickiness, no need for additional surface adhesive.
Anti-skid, shockproof, impervious to water, heat-insulated, long-living logos that don't fade easily, and easy to clean.
Durable, effectively protect the surface of the bar from burns and scratches.
Temperature resistant between -40 – 250 degrees Celsius. Resistant to baking and freezing and will remain soft and undeformed.
Environmentally safe, non-toxic, and tasteless, certified by FDA, ROHS, SGS, LFGB, and other environmental organizations. These bar mats are food-friendly.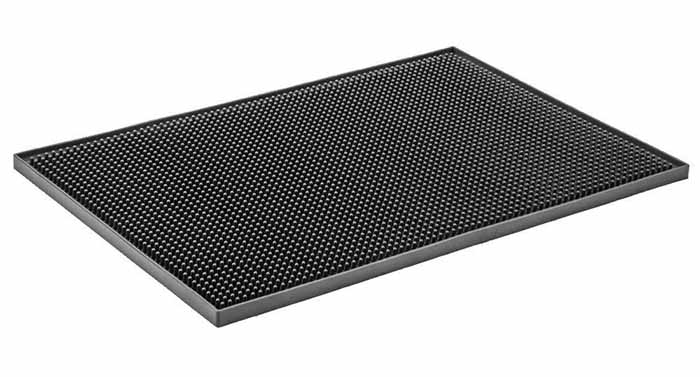 PVC Bar Mat:
PVC bar mats are mainly made of PVC powder (polyvinyl chloride), oil, and color paste mixed into raw materials, heated, and cooled by a modern micro injection dripping process.
PVC bar mats are non-flammable, wear-resistant, chemical corrosion resistant, and have low gas and water vapor leakage.
PVC bar mats offer electrical insulation, heat insulation, noise elimination and shock absorption, amongst many other benefits. The price ratio is superior compared to rubber and silicone mats.
For more details, pls feel free to contact us via sales@logomat-lettosigns.com